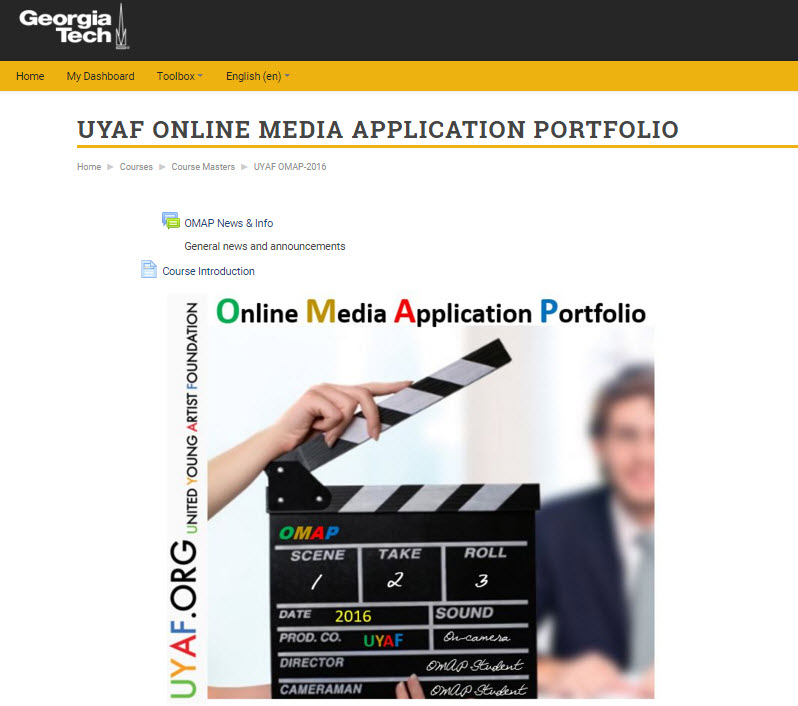 UYAF is at Georgia Institute of Technology.  This is the prerequisite for all subsequent UYAF applications in 2018.
https://pe.gatech.edu/courses/online-media-application-portfolio-online
Course Duration: 1 hr(8-9pm EST) each synchronized session on Tuesdays through Thursday  in total four weeks.
We got some answers for your career advancement or online portfolio application!  Don't just make a website that no body visits or prepare a resume on two pages of papers,  or spend lots of time and money to create your own video production of yourself or your business.
This OMAP course at Georgia Institute of Technology  can help you develop your ideas on media productions and build your resume through Online Media Application Portfolio (OMAP) which is more  important than ever. Let us help you show off your talents, personality, productions, and build your stories, resume, for career advancement and media presentation.
The Georgia Institute of Technology is one of the nation's top high technology research universities, distinguished by its commitment to improving the human condition through advanced science and technology. Georgia Tech's campus occupies 400 acres in the heart of the city of Atlanta, where more than 20,000 undergraduate and graduate students receive a focused, technologically based education.
Greetings, Young Professionals and Talented Students!
Are you a High School or College Student seeking to learn and/or improve your media production skills by producing your very own Online Media Application Portfolio? UYAF may be your OMAP gateway to Georgia Tech, NASA, and the realization of your career goals!
Let UYAF teach you how to use digital media tools to create an online portfolio. Your Online Media Application Portfolio (OMAP) can be used for scholarship, competition, educational opportunity, and career-related applications. Join gifted and talented students from around the world to work in teams as you create your individual OMAP. OMAP is a 4-week online course with 10 days of optional face-to-face workshop opportunities at the Georgia Institute of Technology in Atlanta, GA. This exceptional course also includes an educational study trip to a NASA Center!
GA Tech Instructors, world class artists, and NASA Experts, will provide interactive instruction, guidance, and feedback as you assemble your portfolio. You will learn to use media production skills to construct a well-organized, 5 minute video presentation featuring your background, talents, and career goals.
Check with Georgia Institute of Technology guide for details for the OMAP online course.